The Alliance is deeply saddened to learn of the passing of Dr. Larraine Matusak, former Director of the Kellogg National Leadership Program. Larraine deeply inspired and touched so many and we look forward to celebrating her life and work! We are inviting the extended global community of Fellows to honor Larraine by making a contribution to the Matusak Courageous Leadership Award. The fund for the Courageous Leadership Award was established by Larraine herself as a way to acknowledge the individuals who have courageously and authentically spoke up when silence meant colluding with the problem. Larraine actively participated in shaping the criteria used for identifying candidates and took great pride in the diversity and breadth of contributions represented among recipients. Larraine supported many charities, any of which would offer an opportunity for a fitting memorial to this remarkable woman. While we are honored that she identified ALF as one of her most precious legacies, we encourage everyone to read the obituary provided by the W.K. Kellogg Foundation which lists her other leadership engagements. Doing so illuminates the life Larraine led, one that truly shines with "a perpetual light".
You can make a contribution to the Fund for the Matusak Courageous Leadership Award by using the button to the left of this text. You can also send a contribution by check to:
Alliance of Leadership Fellows
C/O J. Michael Trevino
5334 Bordley Drive
Houston, TX 77056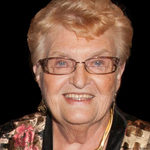 Speaker, author, university president, and international leadership expert Dr. Larraine Matusak had a profound impact on people's lives around the world. She founded the College of Alternative Programs at the University of Evansville and, as one of the original board members of the Council for Adult Experiential Learning, promoted innovative concepts and trained thousands. Perhaps her biggest achievements were in the work she did at the W.K. Kellogg Foundation where she led international grant-making efforts and helped fund a generation of leadership programs worldwide. As Matusak was fond of saying, "Create the future! Leadership is everyone's responsibility." Her book, Finding Your Voice: Learning to Lead… Anywhere You Want to Make a Difference does just that, focusing on growing leadership in every individual. Roger Sublett, a former colleague at Kellogg, sums up her contributions well, "Wherever Dr. Matusak has served as a leader in higher education or philanthropy she has transformed organizations and people."
You can use the form to the left (the "Donate" button) to contribute to the Alliance.
The Alliance requests Founding Fellows to make an annual contribution of $250.00 per year, with four years contributed in advance, for a total of $1,000.
Leadership Fellows are requested to contribute $100.00 per year. If you are interested in becoming a Leadership Fellow, please fill out this form.
Regular members participate in one of our leadership programs, and can apply to become a Leadership Fellow. You can also make any contributions for participation in our leadership programs through this page by using the form on the left.