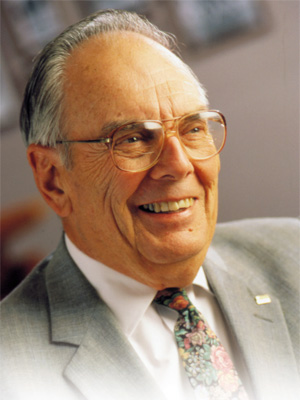 Russel G. Mawby was, for many years, Chairman and CEO of the W.K. Kellogg Foundation based in Battle Creek, Michigan. Under his leadership the foundation dramatically grew in size and influence nationally and internationally. WKKF became a national leader for philanthropy through support of innovative programs in many fields including adult continuing education, development of the community college system, access to primary health care, and the growth of leadership development initiatives, especially through the Kellogg National Fellowship Program. Dr. Mawby was a pioneer in many fields of leadership. His early grantmaking at the Kellogg Foundation led to the establishment of Agricultural Leadership Programs in 42 states and three countries around the world and is represented by the International Association of Programs of Agriculture (IAPAL).  It is estimated that over 15,000 agricultural and food system leadership alumni now serve in leadership positions at all levels of the industry and in hundreds of local, state and federal elected positions.
Russ Mawby's leadership was profound in the field of philanthropy and foundation development as well.  Russ was instrumental in establishing the Center on Philanthropy at Indiana University and the Dorothy A. Johnson Center for Philanthropy at Grand Valley State University in Grand Rapids. In 1972, "Russ" joined other Michigan grantmakers to form the Council of Michigan Foundations (CMF), serving as the chair of their first conference and a founding member and chair of their board. He played an important role in shaping philanthropy across the United States, fostering the concept of community foundations in Michigan, preparing and nurturing leaders for the field, and advocating policy that encouraged individuals, groups, and corporations to recognize their opportunities to be "people helping people". Personally, he served on many boards, spanning the non-profit sector at every level: international, national, university, and within his community. Dr. Mawby was especially active in efforts to make philanthropy and volunteerism a recognized academic discipline. He pushed to develop high quality, standards-based educational materials on philanthropy and volunteerism for K-12 students and realized a vision to establish the "Learning to Give" program, now the leading learning portal for philanthropy education in the world. 
The Russell G. Mawby "People Helping People" Award
Following Dr. Mawby's passing in 2017, a group of grateful individuals raised support to establish an award program in his honor. The Russell G. Mawby "People Helping People Award" is given every other year to an individual leader or to their organization in recognition of ongoing contributions to the health and well-being of communities. The first recipients of the award were Paul Farmer who pioneered community based health approaches across the world, and Jim Yong Kim, a physician and anthropologist who served as the 12th President of the World Bank. 
"You always come down to the basic reality, that in the final analysis in life, only people are important, only people make a difference. Any organization, any institution, is a consequence of the people who are involved in it, and its creation, and in its ongoing existence." ~ Russell G. Mawby
The 2023 Mawby award will focus on contributions in the areas of public health, health equity and in community service that leads to more secure health opportunities for children and families. A distinguished selection committee will review nominations received from around the world and the 2023 recipients will be announced in October. Finalists will be given a cash award and featured on a national podcast highlighting their work. Nominations will be open from May 1 through July 28, 2023. Use this link to submit a nomination. Self nominations are permitted.
Award Committee Members
James McHale (Selection Committee Chair), President, CEO Woodward Hines Education Foundation, Jackson, Mississippi (Former WKKF Executive Officer)
Joselin Cisneros, Education Fellow, Kresge Foundation, Troy, Michigan
Brighid Dwyer, Vice Dean, Diversity Equity and Inclusion, University of Pennsylvania, Philadelphia, Pennsylvania
Barbara Krimgold, Founding President of the Culture of Health Equity Network at the Institute for Alternative Futures (IAF).  Director, Kaiser Permanente Minority Leadership Development Program. Director of the WKKF Health Scholars Program 
Mindi Spencer, Associate Professor, School of Public Health, University of South Carolina, Columbia, SC
Kathryn Johnson, Co-Founder, Center for Global Services, Board Member International Leadership Association, Greenbrae, California (KNFP Fellow)
Dorothy Johnson, Former WKKF Board Member, Philanthropic Leader, Namesake for Dorothy Johnson Center for Philanthropy, Close Friend and Colleague of Russ Mawby
Kyle Caldwell, President of the Council of Michigan Foundations, US Council of Foundations, Grand Rapids, Michigan. P.O. Box 329, Grand Haven, MI 49417-1385
John Burkhardt, ex officio, Chair, Alliance of Leadership Fellows, Ann Arbor, Michigan (Former KNFP)